In the design, the color scheme is the most important element because the overall atmosphere is decided.
However, it takes time to select because it is an important element, and it is not an easy task to find the best color scheme.
So today, we will introduce 15 color palette generators that can be determined by a simple one-click color scheme of designer must-see.
If you put your favorite site in your favorite, you can greatly reduce the time of design production.
Also, if you already know enough of those sites, you may find a new site that is easy to use, so please check it out again.
Color Palette
I borrowed a color palette with a good convenience from codepen and installed it in this site.
If you press "Click" in the center, five balanced colors are displayed, and you can copy the color code by clicking on the band at the bottom.
It is convenient when you are at a loss for color selection and adjustment.

The individual pages of only the color palette are as follows.
Please register your favorite page below and use it if you like.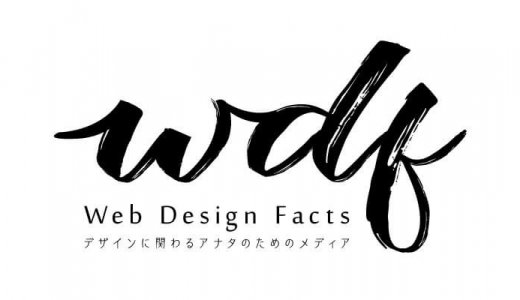 カラーパレット

COLOURlovers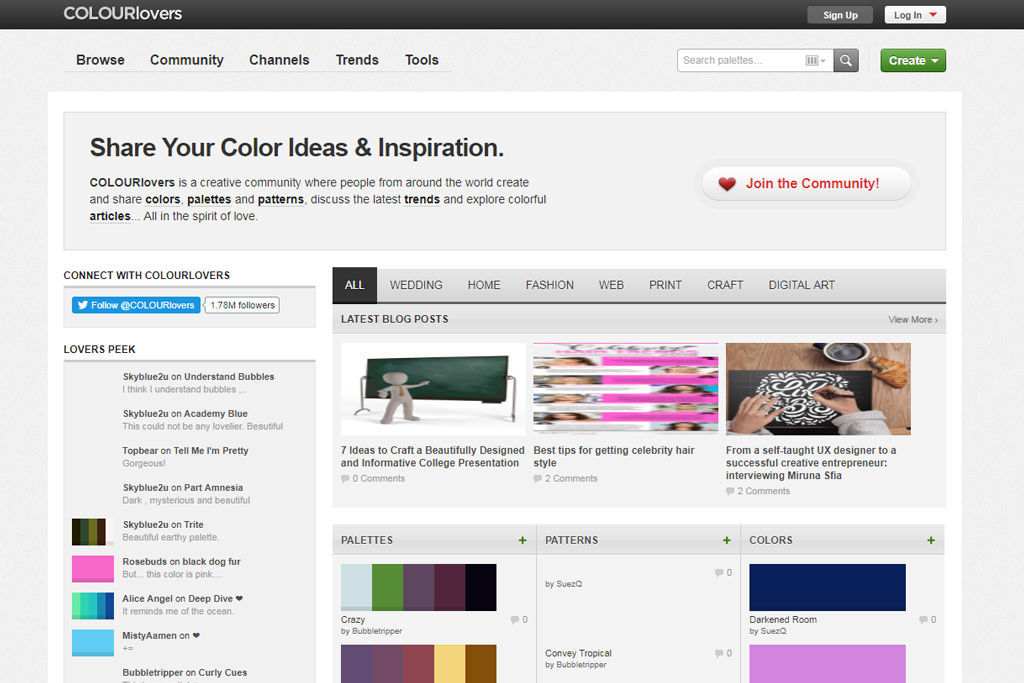 The world's largest online community related to color.
With more than 8 million members, you can browse the millions of palettes you've created.
In addition, there is a unique color palette generator called COPASO, too and it is very convenient.
Adobe Color CC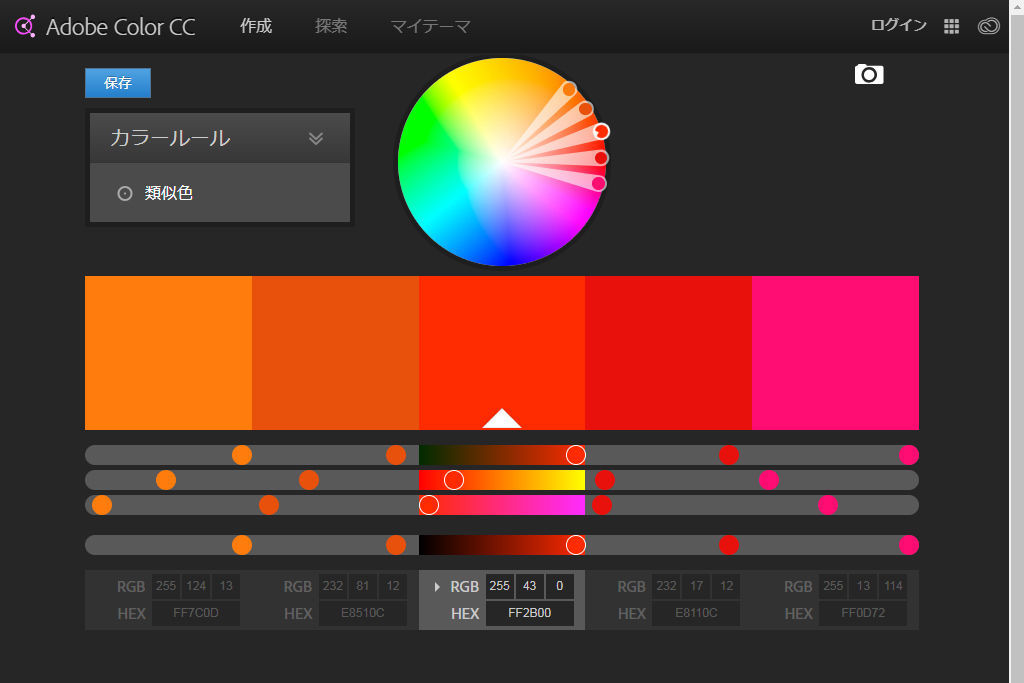 Color CC tool that you do not know even if you are using Adobe.
Create monochrome, triad, predatory, and composite color palettes of similar colors.
The interface is easy to use because it supports Japanese.
There is also a color gallery where you can check colors created by other designers.
ColorDrop.io
The best tool with a color palette that makes it easy to create a flat design.
It is easy to understand the sky intuitively, too.
You can copy the color with 16 decimal or RGB code as it is.
Ambiance
This tool takes out a random color palette from the first COLOURlovers and displays it with a color card.
The advantage of Ambiance is that it's easy to understand and interface.
Just press the update button until you find your favorite color scheme.
It is also convenient to be able to copy color codes with one click.
Palettable
The generator is easy to understand and interesting to operate.
First, you can decide one color of hope and press the "LIKE" button to display the color of the second color that matches that color.
If you like "LIKE", if you don't like it, just press the "DISLIKE" button to display a different color.
It is recommended because it is interesting to use, and practicality is high.
Colorion
A site with regular color palettes, color palettes for material designs, color palettes for flat designs, and three color galleries.
Because the color palette for the material design of the fashion and the flat design can be displayed easily, it is considerably convenient.
In addition to the regular palette, there is also a color palette generator that extracts and generates colors when images are uploaded.
Material Design Palette
As the name suggests, this is a site that specializes in color palettes of material design.
When you select two colors, you will see a harmony color palette of six colors that match the color, and eight colors in all.
You can download svg icons in addition to the palette.
Coolors
A tool that generates a new color palette by pressing space bar.
Similar to Palettable, but you can check the color, saturation, brightness, and more.
It can also be downloaded as an extension of iOS apps and Chrome.
Colormind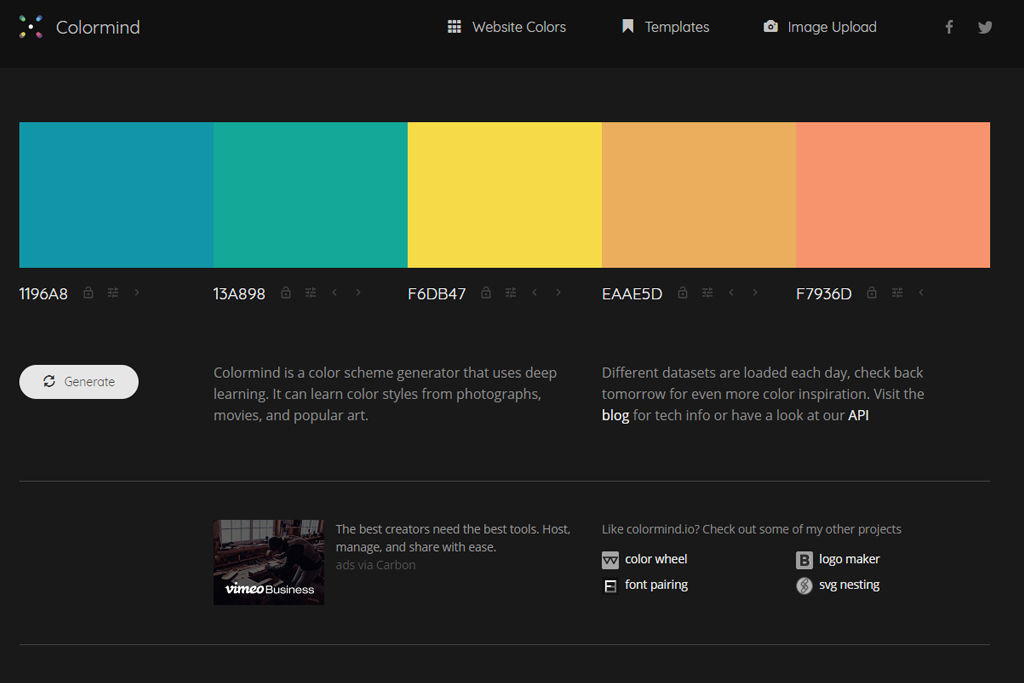 A color palette generator that supports uploading images.
It has an AI to learn the style of color from photography and works of art.
Because the background is black, it is a little difficult to understand.
Canva Color Palette Generator
Simple color palette generator.
You can extract the color of the photo.In addition, the upload can be used by drag and drop, so it's easy to operate.
If you want to use easy-to-understand tools, make sure.
Color Hunt
A color palette collection site where a lot of new palettes are added every day.
Simple and easy to use.
Web site is here
MudCube Color Sphere
A tool similar to Adobe Color CC.
ColorHexa
The world's largest color encyclopedia with information about colors.
Enter ing color values in the search bar displays all relevant information, including color schemes, shades, and tones.
ColorCode
You can download the color scheme you decided on in Sass, LESS, PNG, etc.
It is a tool that can be set finely.
Color Blender
When you first select two colors, a tool that sets the eight colors between the two jobs.
If anything, it might be close to the gradient tool.
Summary
How did you like it?
Because there is a color scheme that is good by the site, it might be good to change the tool to use according to the design.
If you have a favorite site, please register your favorite.