Gradient design made with css of the fashion recently.
Start-up companies that are excited usually use gradients.
It has a state-of-the-art image and it is stylish.
Today, I will introduce the gradient library that such a beautiful gradient can be easily written in CSS.
If you are a mobile site or app UI design, it is a must see.
WebGradients
Gradient library with more than 180 options.
Not to mention downloading css3 as code, you can also download gradients in PSD and sketch.
The UI is also easy to understand, you can use easily because you can copy with a single click.
Gradient Buttons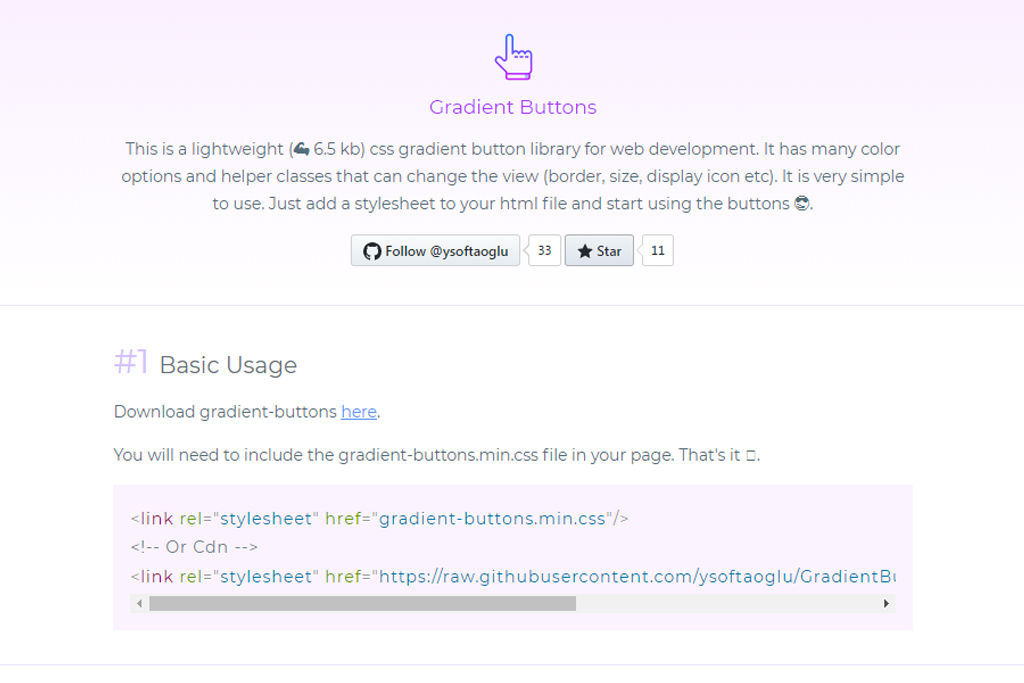 A library dedicated to button grads.
You can make a beautiful grade just by using the class that has already been prepared.
https://ysoftaoglu.github.io/GradientButtons/
uiGradients
The UI is easy to understand and easy to use gradient creation tool.
You can also choose a library prepared in advance, and you can easily create your own specified gradient.
It is the most recommended site for the author personally.
Gradient Animator
Not to mention the specification of the color, the tool which can be set finely and easily such as the speed of the direction and the gradient.
It is easy to understand because it is spit out as CSS sideways in real time.
https://www.gradient-animator.com
Colorzilla Gradient Editor
Tools that can be used in images such as photoshop gradient settings.
The UI is not cool, but the function itself is very clear and powerful.
It is characterized by the ability to output color codes in various formats such as 16 decimal and RGB.
http://www.colorzilla.com/gradient-editor/
CSS Gradients
CSS3 gradient library available on GitHub.
Not only the usual gradients that have been introduced so far, but also css-only designs.
The color of the sample is to be honest subtle, but the width that can be used seems to expand if I customize it.
https://github.com/estelle/CSS3Gradients
※Demo page is here: CSS3 Gradients
ColorSpace Gradient
It's similar to Colorzilla, but it's easier to understand.
However, because only two colors can be specified at a time, it is recommended for the person who wants to make a simple gradation.
ColorSpace Gradient Color CSS Generator
Infinite Gradients
A tool that can set a very fine gradient.
You can use the navigation bar at the top to create a fine gradient by locking the addition of colors and movements.
The operation is a little confusing, but it is recommended for those who want to make a more complex design.
https://projects.skratchdot.com/infinite-gradients/
Gradient Conic Polyfill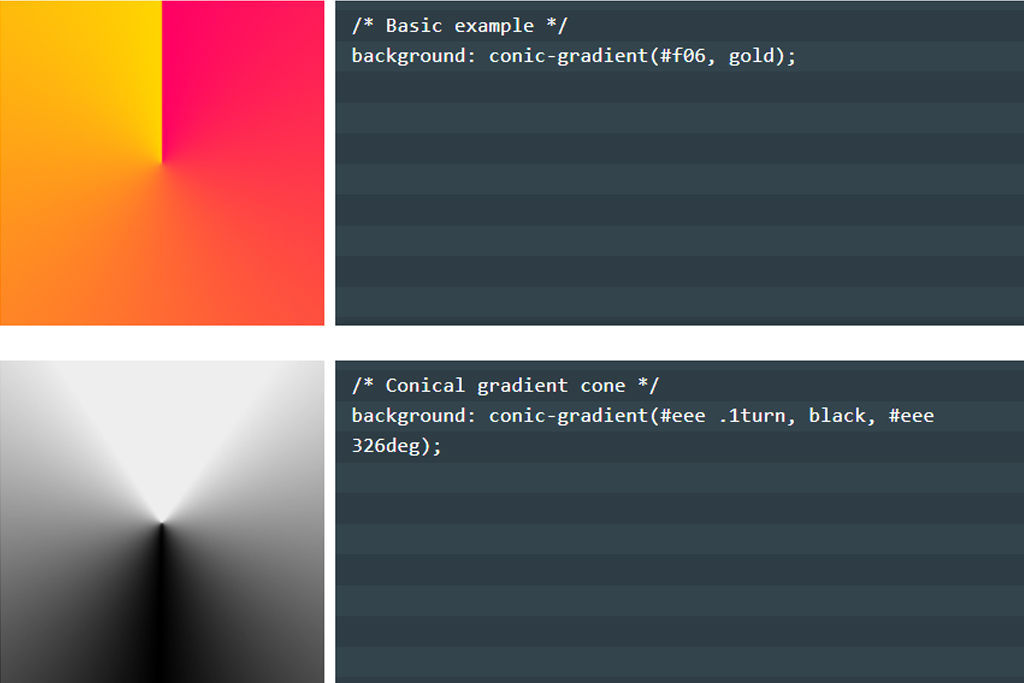 A library that allows you to create gradients with a cone-like image.
Some browsers do not support CSS conic-gradient, so be careful when using them.
https://leaverou.github.io/conic-gradient/
TinyGradient
It is the only JS library in this introduction.
If you operate the gradient in JS, and specify it, the gradient CSS optimized in all browsers is displayed.
You can also set the color code in RGB, which is 16 decimal.
https://www.npmjs.com/package/tinygradient
Summary
How did you like it?
A trendy gradient design.
Because i can not specify it as I thought, let's make full use of libraries and tools such as introduced this time so as to be able to shorten the time even a little.

*Please check the detailed terms and conditions at each site.